It seems like we've become a throwaway world and many times it really is better to spend on quality and think long-term about the pieces you incorporate into your home.  As we've flipped the calendar over to 2015, perhaps one of your resolutions was to update your home and one great way is to refresh a piece of furniture you already own with new fabric.
A lot of furniture on the market today isn't meant for a second life.  The materials used just aren't worth the investment to have them reupholstered. When you're considering this, you're really thinking about furniture that has "good bones".  So what does that mean?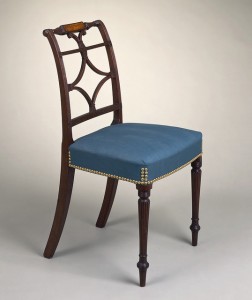 To determine if your furniture has "good bones", consider the following:
look at the bottom frame to make sure it's hardwood and kiln-dried.

 

This means that it isn't prone to cracking which is definitely a concern in our dry Calgary climate;
look for strong, intact braces and stable construction.

 

We're talking about furniture that you can't put together with just an allen key;
and most importantly, do you love it?

 

It's not worth the investment to reupholster a sofa that you don't like the shape or feel of, although there are some options discussed below that can help with that.
When a piece of furniture is reupholstered, it's completely taken apart, so you have the opportunity to change the material used under the fabric as well.  Perhaps, you want to sink into your chair and would prefer a down mixture used in the seat cushion.  Or maybe you feel that the rounded arms just aren't your style.  You might be able to add a cleaner look by having those arms squared out. 
Once you've determined if there are any changes to be made to the actual piece of furniture, there are still additional options rather than just swapping out the fabric.   Piping in a complementary colour can add further interest or can tie the piece to other colours in the room. You could have the skirt removed from a sofa or chair to make it look less formal or add tufting to give it a completely different look. 
Whatever look you're going for, the staff at Creative Interiors can help you find the perfect fabric to refresh a piece of furniture and discuss other upholstering options with you.