Have you ever flipped over the tab while searching for fabric and wondered what "railroaded", or "double rubs" meant or even which types of fabric are better suited for certain applications?  Well, here is a quick summary of some of the more common terms you may come across and some insight on the best materials to work with.
Width – this is the width that the fabric comes in.  You'll typically find it anywhere from 48" to 58" but it may be up to 130" (referred to as "double-width").
Why is this important? This will help you decide if a type of fabric will work for certain applications.  It's easy to hide a seam when you need two panels of fabric for curtains but it might not work for a larger piece of furniture you want to re-upholster.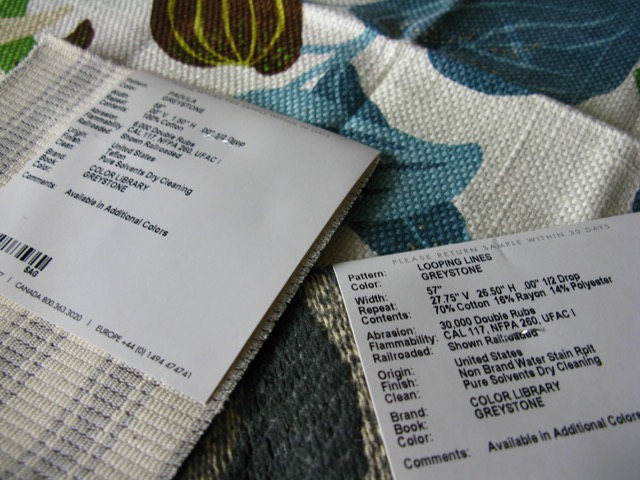 Repeat – the repeat is the size of the pattern as it appears once on a piece of fabric
Why is this important?  Quality workmanship means the pattern will match.  This appears along seam lines and other breaks so when you look at a sofa, the pattern will match along the arms, the cushions, the back, etc. The larger the repeat, the more fabric that's needed which will ultimately increase the cost of the project.
Abrasion – defined as the average number of double-rubs.  This is a mechanized test where the fabric is rubbed until it shows noticeable signs of wear.
Why is this important?  The furniture you use most often should have a higher number while occasional pieces that aren't used on a daily basis can have a lower number. For example, the sofa the children use as a play fort should have 15,000+ double rubs while the furniture in a formal living room might have between 3,000 -9,000.  Anything less than 3,000 double rubs is best for decorative use such as drapes or accent pillows.
Railroaded – the directional feature of the fabric pattern and repeat determines whether a fabric should be cut up the bolt or railroaded, which is at 90 degrees.  In more simple terms, the pattern dictates that the fabric is either placed vertically or horizontally.  For example, a fabric with a pattern of growing flowers could not be cut to railroad since the flowers would appear to be growing sideways and not upward.
Why is this important?  If you're upholstering a piece of furniture, you actually use less fabric if the pattern is railroaded.
Contents – this is the material or combination of materials that make up the fabric.
Why is this important?  You need to consider where and how the fabric is being used in order to choose the material that best suits that application.   This is the same concept as when shopping for clothes.  For example, a 100% cotton t-shirt requires very different care than a silk blouse and is typically worn more often and in more casual settings.
If you are looking for some help in deciphering which fabric works best to reupholster your sofa, to use for accent pillows, or for any other project around your home, stop by Creative Interiors to speak with one of their very knowledgeable staff.