It's pretty easy to go into a big box store or home décor shop today and find a selection of ready-made curtains and a handful of rods and hooks with which to hang them.  They are generally inexpensive, convenient as you can hang them the day you buy them and usually they come in a few trendy colours and patterns. Going with a custom window treatment though opens up so many more options.  Here are a few things to consider when planning your next purchase.
Size
Custom window treatments are made to measure, meaning you get a perfect fit every time.   There are no 'standard-sized windows' so why limit yourself to off-the-shelf window treatments that come in standard widths and lengths.   Oversized windows and unusually shaped windows don't need to stay bare but can get a beautiful bespoke look as well.
You also have the ability to determine the fullness of your drapes.  This means that when they are drawn closed they don't need to lay flat.  Instead, additional fabric is used in the width so the fabric continues to gather and pleat even when pulled across the window.  With custom window treatments you know that the pattern will match perfectly and seams won't show when additional fabric is added to create a fuller look.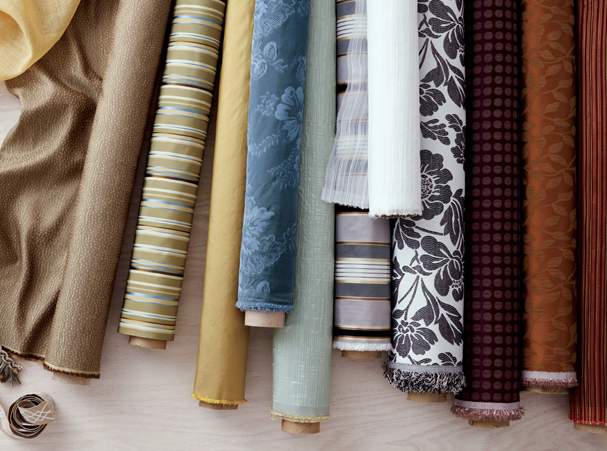 Fabric
Going custom means you have access to hundreds of fabric options.  There are walls of fabric books at Creative Interiors full of swatches representing different types of fabric, patterns and colour combinations.
Drapery Headings
When designing your window treatment you can choose a heading that suits your home. A grommet heading might work for a more modern décor while a formal dining room may need a goblet pleat.  You can also choose from hidden tab, pole pocket, pinch pleat, box pleat, inverted box pleat, tab top and on and on.
Trim and Lining
A trend right now is to add a thick trim to the leading edge of your drapery (i.e. the inside edge where the two panels meet when fully closed).  You can also include fringe, tassels, coordinating ribbon and much more when creating a unique look for your own home.
When choosing custom window treatments, you have greater ability to select something that suits your needs.  For example, if you are designing drapes for your bedroom, you can use a blackout lining to keep out the morning sun.
Hardware
You can find virtually any style of hardware to suit your home.  Poles, brackets, finials and rings all come in a variety of material and finishes.  The options and combinations are endless when you go custom.  As well, you have more choices for windows that are oddly shaped or have space restrictions that limit traditional rod-style treatments.
Now that you've read about how great going custom can be, feel free to stop by Creative Interiors and let one of their talented staff help you wade through the many options and create a window treatment for your home that is truly one of a kind.