Imagine you're spending a snowy day on the sofa enjoying a great book when you decide that the afternoon would be even better with a little nap.  You tap a few icons on the tablet you're reading from and down come the blinds, cocooning you in darkness perfect for sleeping.  Sounds great? Well, it's reality as even window treatments have gone high tech.
Hunter Douglas introduced the Platinum ™ App that can control your motorized window treatments throughout your home.  It's available for Apple®, Android™, Kindle Fire mobile devices and is free to download.  The app works with the Platinum App Bridge, a small hardware unit that stores your settings and sends out the operating signal.  You can also extend that signal throughout your home by installing Platinum Repeaters, which are just plugged into wall outlets.  The Platinum™ App works with some of the most popular Hunter Douglas lines like Duette® honeycomb shades, Designer Roller Shades, Silhouette ® window shadings and many more.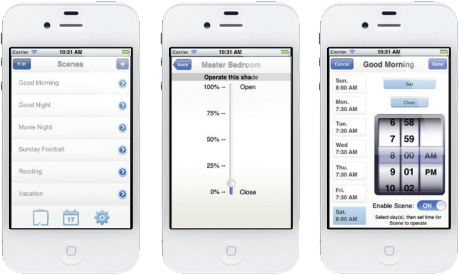 A great feature of this app is that you can program various "Scenes" in your home.  For example, "Movie Night" may close all the shades on the main floor for the nights you stay in with a bowl of popcorn and a DVD.  You can also control the window treatments in each room and have different settings for "Nursery", "Master Bedroom", etc. You just use the slider bar on your device and the vanes can tilt from completely open all the way to closed to create varying levels of light and privacy.
This app is also smart and if you set it for Sunrise/Sunset, it'll actually access the GPS and internal clock from your device to determine the exact sunrise and sunset times for your area.
Another use is setting up timed events.  For example, when you're traveling you can have your window treatments automatically open and close at varying times of the day even when you or your device aren't there.  This is perfect for security reasons and in the cold winter, helps keep down energy costs.
Come visits us at Creative Interiors where our staff who are specifically trained in the platinum app will be able to walk you through the details