Sarah Richardson, a designer and star of HGTV, can add author to her resume.  She released her very first book, Sarah Style, last month and the photos inside are just as lovely as the striped binding of the book (I think she realized many of us use books as décor).
Flipping through the pages, you get lost in one beautiful room after another. It is full of great design ideas and tips and is certainly a wonderful resource.  I also loved seeing some of my favourite rooms from her shows as it allows you more time to pause and really appreciate them.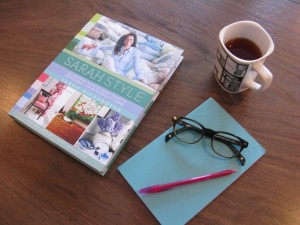 It's easy to identify that "Sarah Richardson" look as her designs are usually centered around fabric.  It's not just one or two pieces but layers and layers of expertly mixed patterns and colours.
Her love of fabric was further realized this year when she released a line for Kravet.  The influences for that line can be seen throughout her book and is even distinguished by being included in a photo on the cover.  The traditional geometric, paisley and floral designs are modernly updated with a muted but fresh palette.  Every piece in the line can be mixed and matched with another to create a cohesive look.
Sarah Richardson for Kravet Collections can be found at Creative Interiors along with a huge assortment of other collections to inspire you.